Why Send A Girl To Camp?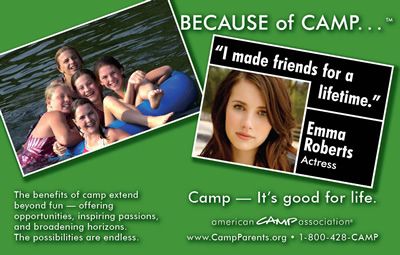 American Camp Association® (ACA) data shows that camp enables significant growth in confidence and self-esteem, relationship and friendship skills, and independence and responsibility. During the summer when school is out, camp is important for healthy development, and involvement in a camp experience contributes to these five major outcomes:
Health and Wellness: Promoting physical activity and encouraging healthy lifestyles.
Environmental Stewardship: Equipping young people with the attitudes, knowledge, and skills they need to be stewards of the environment today and green leaders of tomorrow.
Team Building and Leadership: Helping girls to learn to overcome obstacles and to believe in their own prospects for success.
Workforce Development: Helping young people set goals, learn responsibility, develop interpersonal skills, and develop an entrepreneurial spirit.
Academic Enrichment: Reducing summer learning loss by preparing girls for learning, engaging them experimentally, and encouraging them to think critically.
American Camp Association® conducted national research with over 5000 families from 80 ACA-Accredited camps to determine the outcomes of the camp experience as expressed by parents and children. Parents, camp staff, and children reported significant growth in:
Self-esteem
Peer relationships
Independence
Adventure and exploration
Leadership
Environmental awareness
Friendship skills
Values and decisions
Social comfort
Spirituality
Findings from this national study indicated that camp is a unique educational institution and a positive force in youth development. The camp experience can benefit children by increasing:
Confidence and self-esteem

Social skills and making friends

Independence and leadership qualities

Willingness to try and adventurousness
No differences were found based on the camp type (day, resident) or session length.
For more information on the actual instrumentation, please visit the Camper Growth Index site where details about the instrumentation developed and used in the ACA National Outcomes Study. View the full report here.
Excellent Book About the Value of Camp
Homesick and Happy: How Time Away from Parents Can Help a Child Grow, by Dr. Michael Thompson
Quick Take:
Homesick and Happy is an insightful and powerful look at the magic of summer camp—and why it is so important for children to be away from home... if only for a little while.
In an age when it's the rare child who walks to school on his own, the thought of sending your "little ones" off to sleep-away camp can be overwhelming—for you and for them. But parents' first instinct—to shelter their offspring above all else—is actually depriving kids of the major developmental milestones that occur through letting them go—and watching them come back transformed.
In Homesick and Happy, renowned child psychologist Michael Thompson, PhD, shares a strong argument for, and a vital guide to, this brief loosening of ties. A great champion of summer camp, he explains how camp ushers your children into a thrilling world offering an environment that most of us at home cannot: an electronics-free zone, a multi-generational community, meaningful daily rituals like group meals and cabin clean-up, and a place where time simply slows down.
Thompson shows how children who are away from their parents can be both homesick and happy, scared and successful, anxious and exuberant. When kids go to camp—for a week, a month, or the whole summer—they can experience some of the greatest maturation of their lives, and return more independent, strong, and healthy.
New York Times Article
Kids Need to Be Away From Home by Author Dr. Thompson 
When I talk to residential camp directors around the country today, they tell me that many parents are struggling with the idea of sending children away for four-week or six-week sessions. "It's just too long," they say. For me, camp is about character, community and a prolonged period of independence. Parents can sometimes seriously impede their children's development. At camp, kids develop responsibility, self-control, empathy.
Parents assume that their presence always adds value to a child's growth. I disagree. I think parents can sometimes seriously impede their children's development. As a parent there are many things you cannot do for you children. You cannot give your child confidence, you cannot pick or manage his or her friendships, you cannot always be his or her advocate/agent/manager/coach. Most parents cannot get their children to turn off electronics, especially in the summer, and most important, parents have a hard time urging their children to take psychological risks.
Camps do all of these things brilliantly. Young adult counselors present developmental challenges to which younger children rise. Living in a cabin 24/7 with kids you like and kids you hate builds self-control and empathy. Helping carry someones backpack on a hike, making a fire and cooking together, cleaning pots in the lake, trying new foods and overcoming homesickness… well, that's independence. And true independence is something your parents cannot give you. You have to live it on your own.
Research Matters
A Great Article About why Kids Flourish at Camp
The Case for Camp — Why Kids Need It Now More Than Ever
MSU researchers have found a link between childhood participation in arts and crafts activities to businesses owned in adulthood. See more here. 
Here is an excellent study of the impact of camp on social skills and happiness. The Impact of Camp Experiences on Social Skills and Happiness, by Audrey Monke
Going to camp encourages girls to make "real friends" and limit the "virtual ones". Camp is a safe and nurturing community and gives kids a much needed digital detox.
For parents wishing to learn more about our kids growing up online and guidance on this topic go to the American Academy of Pediatrics. Here are two other excellent guides for parents titled, "The Ultimate Parent Guide for Protecting Your Child on the Internet" and "A Guide to Protecting Children's Privacy Online".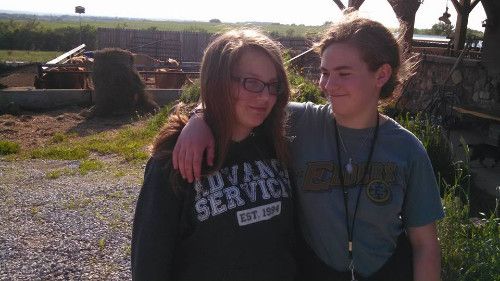 ---
Thanks to Tiffany Shlain for customizing two films for us of her powerful new research about character and the brain!
Tiffany Shlain LETITRIPPLE.ORG.
Camp Summergold is a proud to be an accredidated camp of the American Camping Association®.