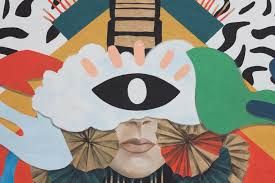 a piece of art made by sticking various different materials such as photographs and pieces of paper or fabric on to a backing.
---
Camp Summergold campers love making collages..
Since we can't be together right now, let's make collages at home and share them on our website.
---
What to do?
Create an 8.5" x 11" collage. Consider using our 2020 summer theme of TEAMWORK.
Take a picture of the collage and send it to info@campsummergold.com 
We'll put a photo of your completed collage on the Camp Summergold website.
---
Check out these You tube videos, for technique ideas.
How to Make a Collage : Establish a Theme for Your Collage ...
Create Your Own Cut Paper Collage Masterpiece
MarcPaperScissor: Cut Paper Collage Artist