Welcome to Camp Summergold!
Directions and drop off time to camp click here.
Camp Summergold is a residential camp designed for girls ages 11 - 17. 

2017 Camp Dates:
Session One - ARTS June 4 - June 10
Session Two - STEM June 11 - June 17
SPECIAL EVENT!
Islands in Paradise -  a 90 minute concert with world drummer Michael Fitzsimmons.
Featuring the Hang from Switzerland (similar to the steel drums of Trinidad).  "If you close your eyes and listen, you might easily envision the sandy beaches, the colorful flora and fauna of the Caribbean Islands."  Let Michael Fitzsimmons guide you on a "virtual" vacation to a land of no worries, lush vegetation, warm days and starlit nights - It's all good, mon!
Thursday June 15, 2017
7 - 8:30 PM
Shakespeare on the Square ~ 911 L Street ~ Aurora, NE 68818
For kids and adults.   Admission is FREE. 
Brought to you by Hamilton County Foundation Fine Arts Committee, Shakespeare on the Square, Nebraska Arts Council and Camp Summergold.  Campers will get to play one drumming number with Michael Fitzsimmons!
Good will donations will be accepted at the door to help Shakespeare on the Square continue their fine work.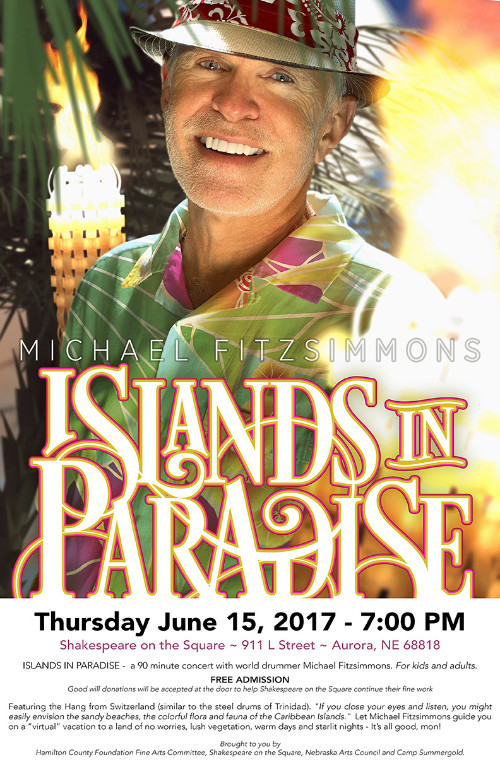 We would like to thank these individuals and companies for all of their help for our sessions in 2017.
The entire staff at The Leadership Center
Superintendent Damon McDonald and the Aurora Public School System
Timothy Eyerich
Annette & Ron Dubas
Andrea Gebhart & JEO Consulting Group Lincoln NE
Casey's General Store
Jessica Brock at Edgerton Explorit Center
Morgan Ekhoff
Deb Hauswald
Barbara Herzog
Sarah Collins
 
---
---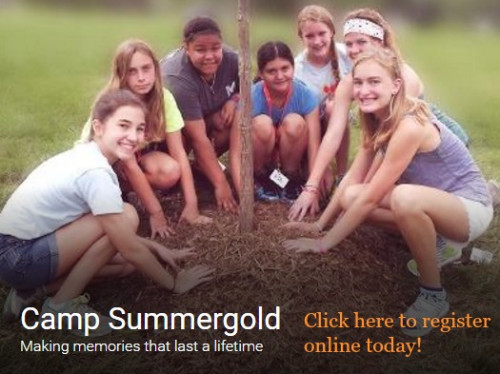 Thanks to all of our donors who gave to our Send A Girl To Camp campaign and to our recent donors for Give To Lincoln Day 2017! 
A million thanks to the organizations below who
helped up thrive since we began.
Spring Creek Prairie Audubon Center
Channel 10/11 Lincoln
Branched Oak Farm
International Quilt Study Center & Museum
The Clark Enersen Partners
Susan Brasch 
Voices of Hope
Doane University
The Printer