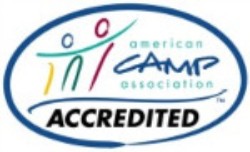 Note to families - Camp Summergold's priority is your camper's safety. We can't guarantee your camper's personal happiness, but we strive to create a healthy and memorable camping experience for your camper and the whole Camp Summergold family. To help us achieve this goal, please review the following policies. As an accredited camp, Camp Summergold follows the American Camp Association standards to create policy. If you have any questions or are concerned about any information on this list, please contact us at info@campsummergold.com or 402-474.2206.
Tuition Refund Policy: Tuition refund requests made by May 1 are eligible to receive a full refund, minus the $150 deposit. Refund requests made between May 2 and May 15 are eligible to receive a 50% refund of the paid tuition fee. Refund requests made after May 15 will not be eligible for a refund. Due to the seasonal nature of summer camping, there is no refund or credit for any portion of the camping period not completed including late arrival, early departure, dismissal for cause, illness or accident, disability or withdrawal for any reason.
Photo and Video Use Policy: Photos and videos taken during camp and at the camp reunion are the property of Camp Summergold and can be used for promotional purposes, such as but not limited to print and on-line advertising, social media, public news releases, publicity, TV, advertisement, brochures, website, email or promotional videos. Any photograph or video used by Camp Summergold will exclude the identification of those appearing in the picture. No image that places any child in a defamatory or disrespectful light will be taken or used for any purpose. Names and addresses of campers and staff are the confidential property of Camp Summergold.
Cell Phone Policy: Camp Summergold has a no-cell phone policy that imitates polices held at other camps and public/private schools. Cell phones that are brought to camp must be stored in the director's office. If a camper is found with an unchecked cell phone she will be dismissed. See "dismissal policy". Camper families are welcome to prearrange a mid-week phone conversation with their campers by contacting the camp directors during the check in process.
Communication Policy: Please advise your camper that there are many adults on our staff who will help her if an issue arises during her camp stay. Both directors, our camp nurse, our resident mentors, our counselor manager and our counselor staff are available to help your camper - but we can't help her or solve the problem unless we hear about it. Please advise your camper that she is strongly encouraged to say something if she is experiencing anything that makes her uncomfortable and we will do our best to solve the issue internally at the time of the event or we will reach out to parents/guardians. Camp Summergold Directors agree to contact parents (by cell phone, text and email) to let them know if their camper is experiencing a challenge adjusting to or during camp. 
Family members may reach out to campers by prearranging a mid week phone conversation or through the postal mail at: Camp Summergold, 2211 Q St, Aurora, NE 68818. Family members may reach out to campers through electronic Camp Grams that can be purchased through the registration portal. All mail (email or postal) and packages will be delivered to your camper at meal times.
Personal Property Policy: Campers may bring personal items to camp, but Camp Summergold is not responsible or liable for any personal property that is lost, stolen, or broken. Bunk management is a priority and we will do everything in our power to maintain neat bunk rooms.
Pool policy is under construction and will be shared with parents before the June camp session
Transportation Policy: Camp Summergold rents a passenger van to provide transportation from Lincoln to Aurora and back to Lincoln for the camp Session. This transportation may be purchased through the registration portal. The rented van is used during the camp week to transport campers to the Edgerton Explorit Center and the Plainsman Museum (approximately 2 miles from the Leadership Center). A counselor or staff member accompanies the driver and the campers in the vehicle. A director or designated staff person will drive a second vehicle to assure that there is a back-up vehicle on the trip in the case of an accident. Both vehicles are equipped with first aid kits and emergency accessories.
Campers who are old enough to drive to camp must have parental consent. Campers may not drive during camp or have another camper in their car. Campers may not drive another camper home unless both parents are contacted and sign a waiver.
Medical Policy: In the event of an injury or health emergency, the camper will receive immediate First Aid and the situation will be assessed by the camp nurse and action will be taken following the terms of the Parent/Guardian Authorization for Health Care completed during the registration process. In the event of a health emergency the nurse/health care provider will administer immediate first aid care and will arrange for transportation to Aurora Community Health Center, 1423 Seventh Street Aurora, NE 68818 by car or ambulance as indicated. The camp will notify parents as soon as possible.
Weather Policy: Camp Summergold's staff uses multiple weather apps to stay current with daily temperatures and weather. Programming will be altered to reflect heat indexes and impending storms. At the first sign of inclement weather, campers will be brought indoors and into safety.
Nut Aware Policy: For the safety of our campers, we are a Nut-Aware camp. Please do not send any nut products to camp with your child. While we are a "Nut-Aware" camp, we cannot guarantee a nut-free environment.
Behavior & Dismissal Policy: Camp Summergold reserves the right to dismiss a camper without refund for any behavior (1) that threatens or endangers the welfare and/or the safety of any camper, instructor, or any other person involved with Camp Summergold (2) is disruptive to the overall camp environment, which interferes with the beneficial use and enjoyment by campers and staff, or (3) for any form of bullying of other campers or disrespectful behavior to camp authority. Camp Summergold emphasizes a safe, fun, and healthy camp environment that fosters learning and friendship, and appropriate camp behavior is essential to a great overall experience for everyone involved. It is imperative that every camper feels included, safe, and part of our camp community.
Note: It is the rare case that any camper is sent home. We encourage parents to explain to their children that Camp Summergold is a private non-profit camp and that we are not required to accept a camper's application. Although we are always willing to open the door to many campers, any camper whose behavior negatively impacts her cabin mates' time at camp may be sent home (without a refund). Camp policy prohibits any camper who is dismissed for behavioral reasons from returning to camp the following year.
In the event of any dispute, claim, or controversy relating to the terms of this Agreement or arising during or after the camper's session at Camp SummerGold, Camp will attempt to resolve the issue first through direct negotiation with the parent or guardian and, if unsuccessful, through mediation, with the parties sharing the costs thereof equally. In the event that the parties proceed to litigation, venue will be in a court of competent jurisdiction in the State of Nebraska and the laws of Nebraska will apply. If Camp prevails in the litigation, it will be entitled to recover any and all attorney's fees and any other costs incurred, as well as any other relief granted by the court.
---
Below is a terrific video about camp/parent partnerships by Dr. Bob Ditter, the leading expert on kids at camp.